Roman markets are very colorful and certainly worth a visit, even if only to get a glimpse of the good-natured liveliness of these local city hubs, or to discover some new spices, vegetables or cheeses that may be interesting to try. Nearly every rione (district) of Rome has its own market (known as mercati rionali).

Historically, the oldest markets of Rome are the Campo de' Fiori and Testaccio markets, as well as the ones on Piazza Alessandria and in Cola di Rienzo. Over time the Roman markets have, however, evolved in three different ways. They either moved to another place, such as the food market that had been held in Piazza Navona since 1478, moved to Campo de' Fiori in1869, or moved to a covered building (such as the Vittorio market). Little by little some markets were deserted by the local farmers in favor of the district's immigrant population (Esquilino market).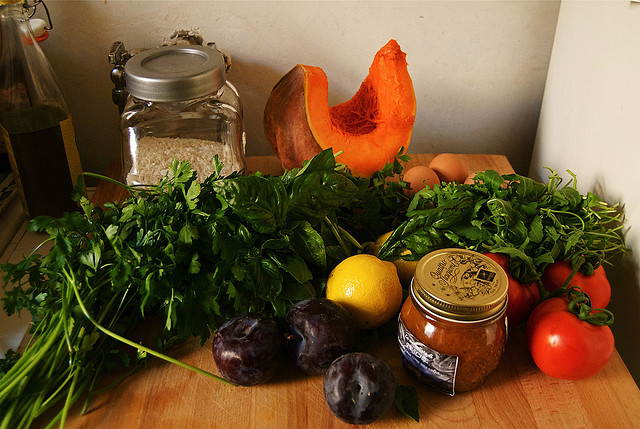 The offer of food products is endless: from seasonal fruits and vegetables, over the freshest fish, fresh and cured meat products, regional cheeses, olive oil, wine, homemade jams, herbs and spices, and much more. You can often find authentic food products and regional specialties that are not sold anywhere else. So, while in Rome why not do your food shopping like the Romans do, at the local district market, rather than going to a super- or hypermarket (which will be a bit harder to find in the city center anyway).
1. Mercato di Testaccio
Piazza Testaccio
District: Testaccio
Mon-Sat, 7:30 – 13:30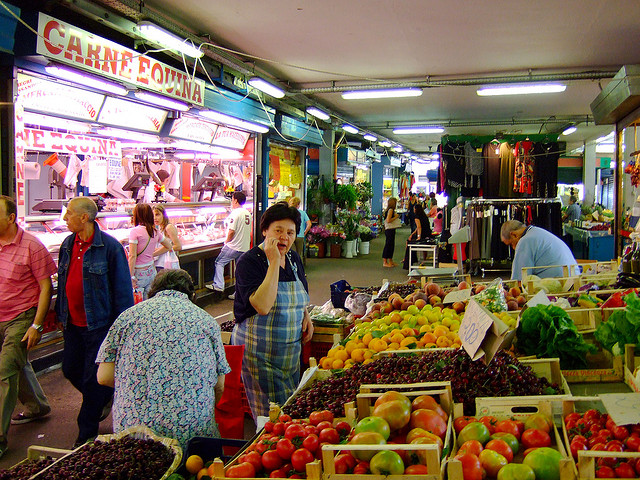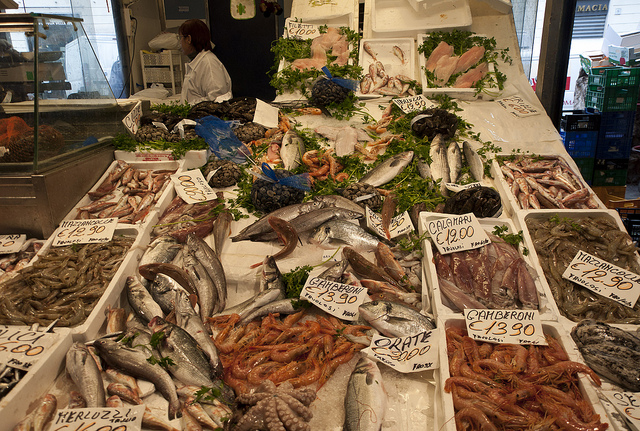 One of the oldest markets of Rome, this authentic, popular district market sells both clothes and food products. Formerly located on Piazza Testaccio, the market is now housed in a bright white, covered building near the former slaughterhouse (now the MACRO museum). The market now spreads over 5,000 square meters under one roof. It has lost a bit of its local, "homely" atmosphere, but it is still one of Rome's most authentic markets.
2. Mercato Esquilino (Piazza Vittorio)
Entrances: Via Principe Amadeo 184, Via Turatti, Via Mamiani and Via Ricasoli
District: Esquilino
Fr-Sat: 9:00 – 17:00, Mon-Thur: 9:00 – 15:00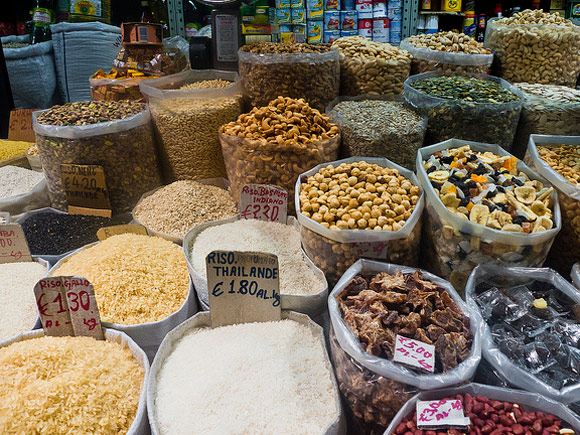 The Esquilino market is the most international market of Rome, offering a wide palette of overseas flavors and colorful languages. Once located on Piazza Vittorio, the market is now housed in a former diary factory, at Via Principe Amedeo, 184.
Specialized in exotic fruits, herbs and species, Indian curries, and other African and Asian products (the main inhabitants of the Esquilino district), it is also one of the cheapest and best stocked food markets of the city. Apart from the exotic foods it also offers the freshest fish and regional cheeses. The adjacent clothing market sells classic Indian dresses and suits.
3. Campo de' Fiori
Piazza Campo de' Fiori
District: Campo de' Fiori
Mon-Sat, 7:00 – 13:30
Every morning, except Sunday, stalls sell fruit and vegetables, meat, poultry and fish, dried fruit, rice, pulses and nuts. Due to its location, the market is now mainly aimed at tourists, with some food souvenirs and household stands popping up among the more traditional food products. Although it developed out of the oldest food market of Rome, Campo de' Fiori is certainly not a farmer's market selling local produce anymore, but it is still worth a visit because of its beautiful and colorful stands and the Piazza itself.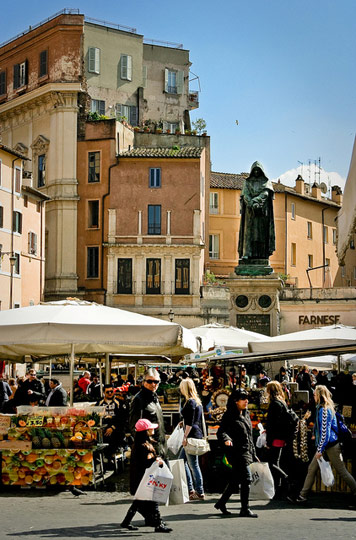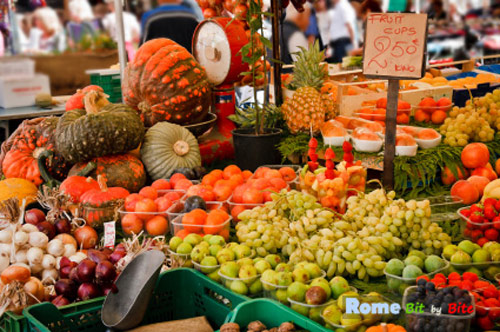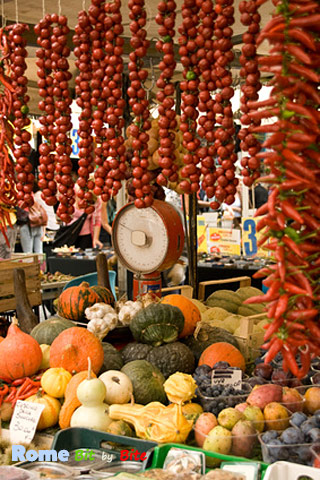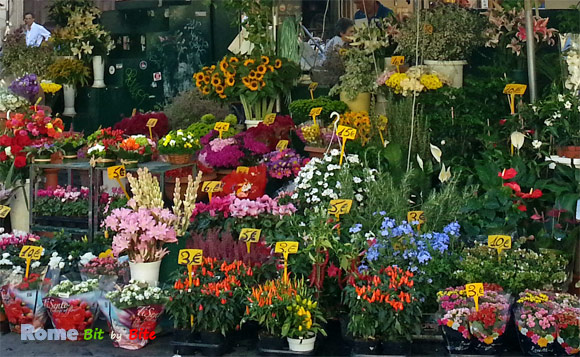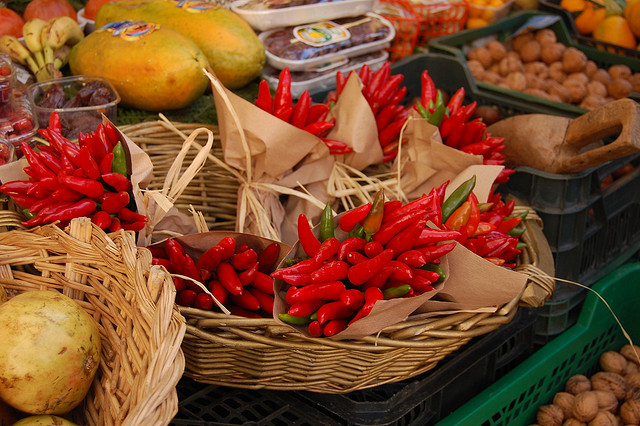 4. Mercato Nomentano of Piazza Alessandria
Piazza Alessandria
District: Nomentano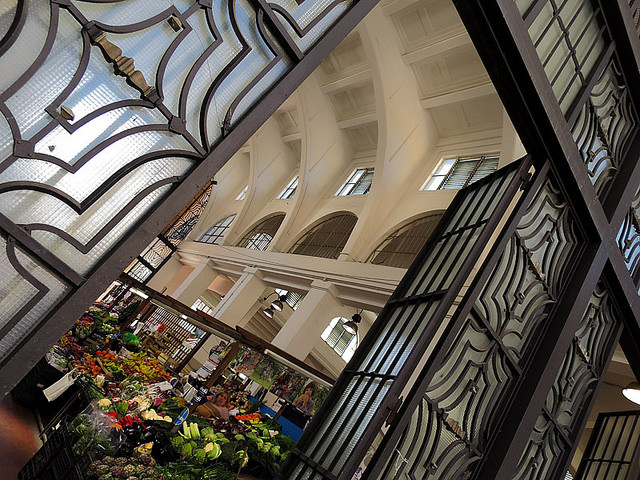 The most beautiful covered market of Rome, the market of Piazza Alessandria is housed in a beautiful Art Nouveau building, with its classic wrought iron structure and glasswork dating to the early 1900s. It is one of the historic markets of Rome, together with the one in Testaccio and the one in Via Cola di Rienzo. It is located next to the ex-Peroni beer factory, near the Porto Pia gate. Here you can find fruits, vegetables, fish and meat,  as well as  flowers. Some historic vendor families are still present in the third generation.
5. Nuovo Mercato Trionfale, Prati (Andrea Doria Market)
Open every day except Sunday
District: Prati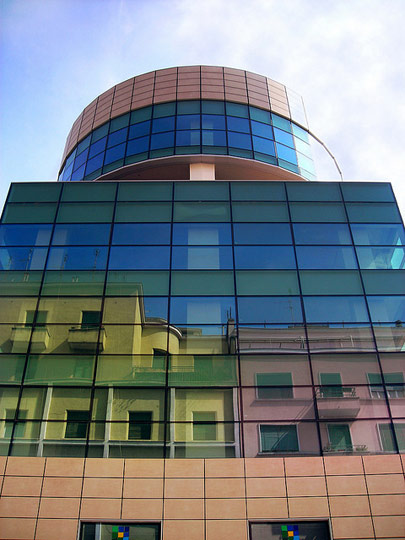 Located in the Prati District of Rome, near the Vatican Museum, the Trionfale Market is one of the largest food markets in Rome, where locals shop for fruit, vegetables, meats, seafood and local wines from the barrel. Also known as the Andrea Doria market, it is a modern, covered market housed in a renovated building that occupies a full city block on Via Andrea Doria between Via Tunisi and Via Santamaura. Not exactly picturesque, but authentic.

6. Mercato Piazza delle Coppelle
District: Pantheon
Mon-Sat, 7:00 – 13:00
A very small market in a picturesque area of Rome, selling food, fruit and flowers. It is located just off the small Piazza delle Coppelle, parallel to Via delle Coppelle.
7.  Piazza San Cosimato
District: Trastevere
Mon – Sat mornings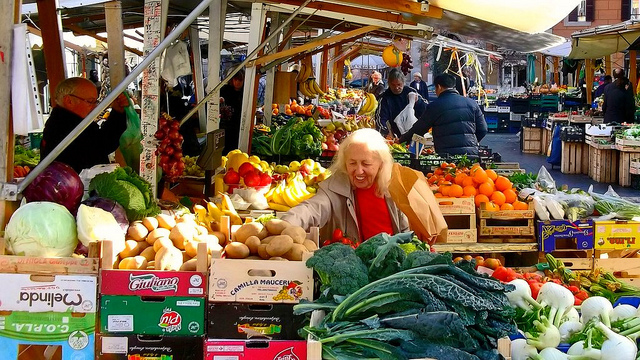 The market in Piazza San Cosimato is a lively fruit and vegetables market in the picturesque district of Trastevere. Many of the vendors are still descendants of the original farmers who sold their local produce here.
8. Piazza dell'Unità Market in Prati
Open Monday-Saturday 7 am – 8 pm.
Via Cola di Rienzo
District: Prati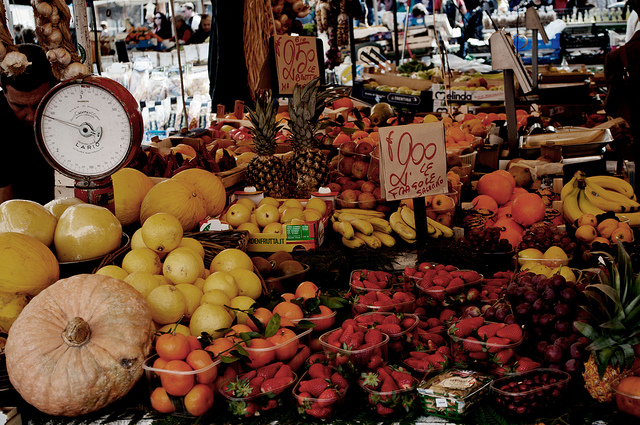 Located in one of Rome's upper-class residential neighborhoods, the market of Piazza dell'Unità is a lovely covered market, housed in a white, arched building from 1928, where to buy seasonal vegetables, fruits and other food products. Unlike other food markets it offers underground parking, which is very welcome when shopping in Rome.
9. San Teodoro, Circo Massimo
Via San Teodoro 74
Saturday and Sunday, 9 am – 6 pm.

A great weekly farmer's market, selling seasonal fruits and vegetables, olive oils, fresh and cured meat products, honey and jams, as well as plants and flowers.

Photo credits: all photos © Rome bit by bite, except (from top to bottom): Campo de' Fiori by Andrea~S; Fresh from the market (2 photos) by Valeria; Testaccio market by Ryan Oriecuia and Eric Parker; Vittorio by candido33; Campo dei Fiori view by Albert; Campo dei Fiori © Rulan/Fotolia.com, Su-Lin and dal 1929 by Sergio Carvalho; Mercato Piazza Alessandria by Adalberto Tiburzi; Mercato Trionfale building by Fabiano; Mercato Trionfale by David McSpadden; Mercato Piazza San Cosimato by Lorena Suárez; Mercato Vaticano by Andrea Usseglio; Massimo by Fabio Gaglini;