While Rome is world famous for its historic monuments, museums and traditional cucina romana, the city is also the home to many vibrant and trendy places. For those of you who are looking for something special, exclusive, and a bit off-the-beaten-path, for example to celebrate a unique moment, or to impress a loved one,… or just because you want to hang out where the famous and fashionable (locals) go, here's a list of ideas for a trendy-chic and off-the-beaten path week-end in Rome. Some of Rome's iconic, not-to-be-missed places, complete the list.
Aperitif at Salotto 42
On your day of arrival start with an aperitif at Salotto 42, on the beautiful Piazza di Pietra in front of the impressive Temple of Hadrian built on the campus Martius in 145 AD.
The bar is frequented by locals mostly, the bella gente romana and Roman yuppies, for its good music, fashionable, yet cozy, bar atmosphere and excellent cocktails (also delicious non-alcoholic ones). Oysters and sashimi are offered with the drinks.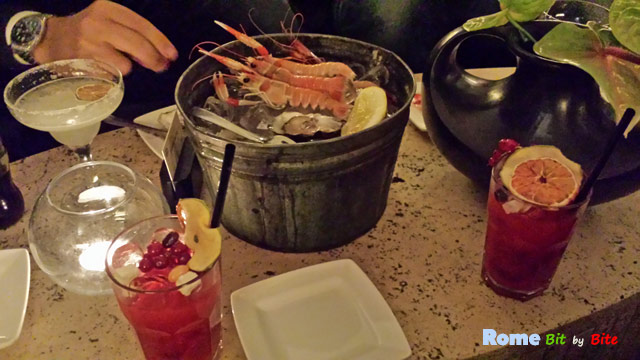 The bar is nice at lunch time, too, with its healthy salad buffet and "raw" food. Most impressive, however, is the Temple of Hadrian, opposite the bar, which seems to have been completely integrated into the architecture of the piazza. Of the original temple only 11 columns remain, which were integrated in a new building at the end of the 17th century and would later become Rome's Stock Exchange. Now in disuse, the building is mostly used for temporary exhibitions.
If you arrive earlier in the afternoon, we suggest a visit to the elegant and unusual chocolatier Moriondo & Gariglio in Via del Pie' di Marmo. They have a surprising 100% cocoa chocolate (without sugar), invented in the 1920s and known as poison, which is divine! They also have delicious marrons glacés, another one of their specialties.
You can have a chocolate tasting at one of their boudoir tables or compose a little bag with you own favorite selection of chocolates.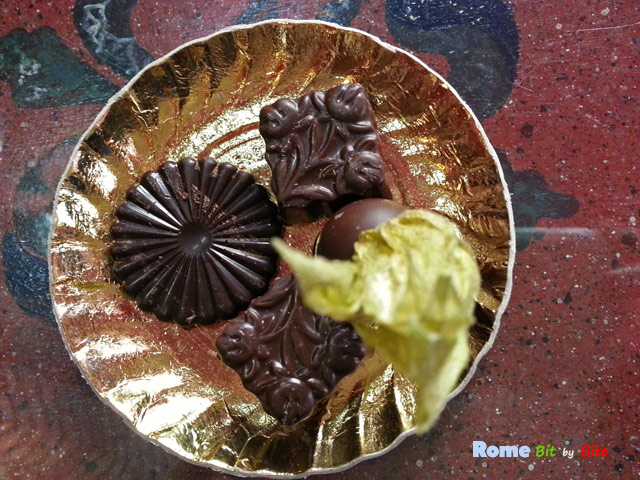 Opposite the chocolate shop, at the angle of Via Santo Stefano del Cacco and Via del Pie' di Marmo, you'll find one of Rome's 'hidden' curiosities. The Pie di Marmo statue (marble foot statue), after which the street was named, was once part of a giant, probably female, statue located at the entrance of a temple dedicated to the gods Isis and Serapis. Some scholars think that the statue was Isis herself, which adds to the paradox of this long-forgotten marble foot statue, as Isis was a much venerated Goddess in ancient Rome, yet, today nobody seems to notice this surprising relict.
For elegant window shopping head to Via Condotti, or the even more exclusive Via del Babuino (connected to Via Condotti by Piazza di Spagna), with its luxury brands, concept-stores and concept-cafés, such as the unusual bar-restaurant-museum Canova-Tadolini (Via del Babuino 150).

Nearly parallel to Via del Babuino is Via Margutta, Rome's artist quarter (where Fellini used to live) with its artist galleries, marble workshops and antiques.
Fine-dining in Rome
Rome counts over 8,000 restaurants, many of which are very touristy, due to the many tourist attractions in close proximity. However, the trendy, non-touristy places, frequented by locals, are not necessarily located outside the center. Two of the three stylish restaurants listed below are located in very touristy areas of Rome, yet do offer something different from the eating places aimed at passers-by.
La Rosetta, Pantheon
La Rosetta by the Pantheon is one of the best fish restaurants in Rome and one of the few fine-dining and non-touristy restaurants in the Pantheon area. A hub for VIPs and local celebrities, the restaurant offers the freshest seafood and excellent five-star service.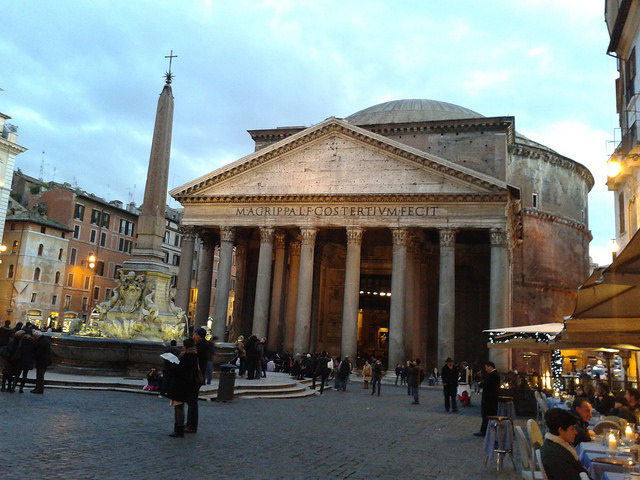 With his Oyster Bar, the famous chef, Massimo Riccioli, has even developed a "low-cost concept of high-level cuisine" next to the restaurant, where to enjoy his cuisine without diving to deep into your wallet.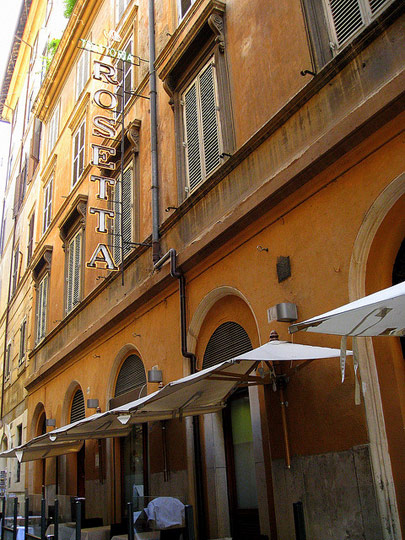 Glass Hostaria, Trastevere
Inventive flavor and texture combinations, an impressive wine list and nice service that's what you'll get at the Glass Hostaria in Trastevere. The Michelin-starred restaurant really stands out in the Trastevere rione, where most of the other restaurants are very touristy. Glass offers interesting tasting menus, with the possibility to pair wine by the glass.
Settembrini, Prati
Settembrini is a very Roman and original place, away from the traditional, touristy areas of Rome, where local people come for lunch or dinner. The cuisine is excellent and the atmosphere stylish and modern, but laid-back and homely at the same time, due to the bookshelves decorating the restaurant, which confer it a homely feel. Actually, the bookshelves are not just there for decoration, as the restaurant doubles as bookshop. There is also a wine-bar next door where they serve nice cocktails and salad-like dishes.
Sleep in an elegant Roman Palazzo
One of Rome's best kept secrets are the fabulous private Roman palazzi turned into beautiful accommodation. Little advertised, these places incorporate a touch of history, while offering you beautiful accommodation without making you pay the extravagant prices you would be charged in a traditional hotel with rooms of an equivalent standard. It are usually houses within the very center of Rome that belong(ed) to noble families where a few rooms are made available for guests. Usually reception is open only a few hours a day and in many cases there is also no breakfast room (in which case breakfast is served in the room) or other facilities, which is the reason why the prices can be kept down as compared to more expensive luxury hotels with rooms of similar quality.
This type of accommodation is usually listed as "Suites" or "Residenza", meaning luxury rooms but without the full range of hotel facilities. However, not all Suites have kept the traditional palazzo lay-out and decoration. Some have been completely renovated and modernized, losing a bit of their historic aura. So, be sure to read the description on your usual booking site to make sure you get what you are looking for. Personally I prefer the Suites that have kept close to the palazzo feeling of once upon a time and in which Roman families are still living. One such Palazzo is Navona Gallery & Garden Suites in Via del Governo Vecchio, close to Piazza Navona.
Although the Navona Galley & Garden Suites are located in the busy Via del Governo Vecchio, the rooms are all at the back of the building, around the peaceful inner court. A surprising heaven a silence and relax in the middle of the city! For info and room types, see Navona Gallery & Garden Suites.
Another one is Residenza Ruspoli Bonaparte, close to Piazza di Spagna
For more info and other room types at Residenza Ruspoli Bonaparte, click here.
If money is not an issue (read: is REALLY NOT an issue), one of the most beautiful hotel roof-top suites with a terrace in the center of Rome is the Penthouse suite of Hotel d'Inghilterra, one of the legendary hotels of Rome. The hotel owes its name to the fact that many Englishmen, poets and artists, used to stay here when in Rome. The romantic poet Keats, who lived in Piazza di Spagna, used to rent rooms here for his visiting friends, among whom Lord Byron, here.
The hotel suite with large separate sitting room has an impressive 200mq terrace overlooking the rooftops of Rome from Villa Medici to the Vittoriano. The only downside is the price tag: several thousands of euros! But, no worries, there are also more affordable suites available in this historic hotel!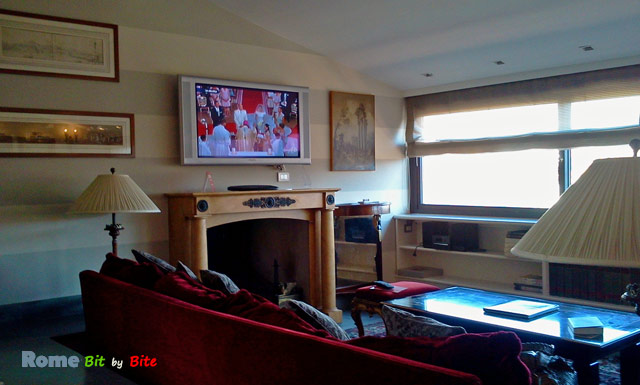 For info about Hotel d'inghilterra and other room types, click here.
Next morning coffee at Caffè Farnese
Close to the picturesque Campo de' Fiori is Caffè Farnese, on the eponymous Piazza, the elegant square where the French Embassy is located. There is a kiosk next to the caffè and the terrace is really inviting, so this is a nice place where sip a coffee while reading your newspaper and soaking up the early morning atmosphere of the piazza.
If you enjoy people-watching head to Bar Canova, on Piazza del Popolo. For more great morning coffee places, see: Top 7 most famous cafés of Rome.
Brunch at Hotel de Russie
Before leaving Rome enjoy an elegant and gargantuesque brunch at Hotel de Russie, in Via del Babuino. The iconic hotel has a beautiful garden in the middle of the city where you can enjoy a relaxing weekend brunch away from the city's hectic. The brunch is available on Saturdays and Sundays, from 12.30pm to 3.30pm. There are four different buffet stations, one with salads and cold dishes, another with sashimi, oysters, lobster cocktails and other raw fish specialties, a third one with primi (pasta and rice dishes) and secondi (hot main dishes) and a last one with cheeses and desserts (the crème brulée is divine!).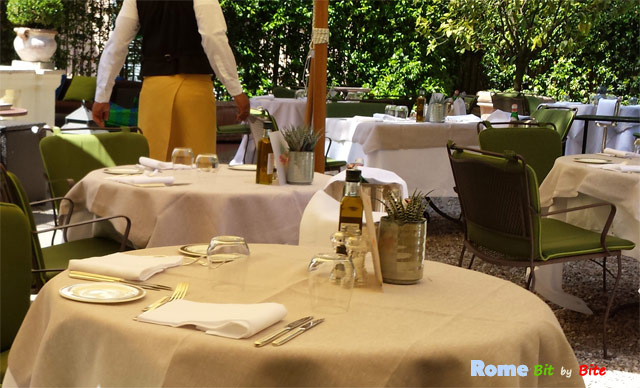 If you have some time left, have a walk along Via Veneto. The avenue has a bit lost from its former flamboyance and is now deserted by the locals, but in the 1960s it was the hub of the dolce vita and the place where all movie stars hung out. It is worth admiring the elegant hotels and palazzi that line Via Veneto. A few of Rome's historic cafés, such as Café de Paris, are also located here.
If you are still in for something sweet or just wish to take an afternoon coffee, we suggest you head to Giolitti, one of the historic gelaterie of Rome (founded in 1900), or have a granita di caffè on the terrace of Caffè Tre Scalini on Piazza Navona, with or without their famous black chocolate gelato or tartufo artigianale.
Photo credits: all photos © Rome Bit by Bite; except (from top to bottom): Salotto 42 outside © Ted McGrath; Canova coffeeshop © DeeDee Schroeder; Canova Tadolini © Thomas Keenes aka gpsforaknownplace; Pantheon by Roma a piedi; Rosetta restaurant by Nika Vee; Glass Hostaria tartare by dodoyf; Caffe Farnese by Patrick M, Excelsior hotel by Alvaro Garrido.