In the hectic pace of our everyday life, it is often easy to forget where we have come from and how the past has molded the cities we now live in or travel to.
These black and white photos below, taken by Italian and international photographers, show the reality of existence in the Rome of the 1800s, when photography was still in its infancy.
At a time when computers did not exist, photography was often the only means to monitor the advancement of works or record the progress of deterioration in specific areas of the city.
The above view and the three following photos were photographed by the brothers d'Alessandri, two Italian photographers (1818-1893) who had a photo atelier in Rome, Studio Fratelli d'Alessandri, first in Via del Babuino, then Via del Corso and ultimately in Via Condotti.
The brothers were among the most renowned photographers of the 1800s, leaving their mark on the history of Italian photography. Their photographic work documenting the Rome of the19th century is essential to understanding the evolution of the city during that period. In 1887, the civil engineers of Rome commissioned them a series of photographs documenting the banks of the river Tiber before and after the construction of embankments.
During the second half of the 19th century, the river banks and roads along the Tiber were radically reconstructed to reinforce the city's defenses against floods and improve its transport network.The new road on the left bank was named Lungotevere. When houses were built on the river banks the city was likely to be flooded, which happened quite often, sometimes very severely. The embankments built in the 19th century greatly improved the situation, but it also caused entire parts of the original Tiber landscape to disappear.
So was the case with the Porto di Ripetta (see photo below), which was entirely demolished in the late 1880s. Evidence of its existence is scarce today and were it not for the photographs and paintings of the 19th century, no trace of its existence would remain.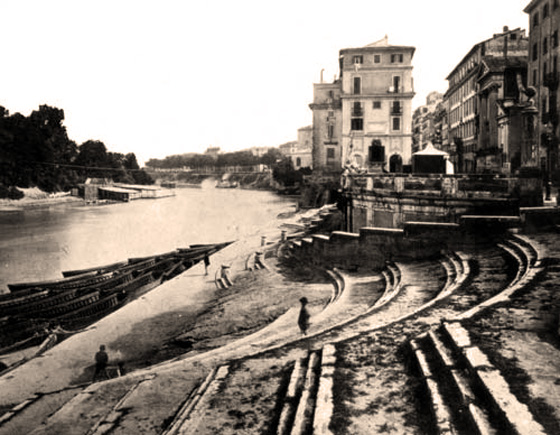 The Spanish Steps and the Trevi fountain photographed by Robert MacPherson (1811-1872).
Below a photo by the Czech photographer František Krátký (1851-1924).
Below a photo by the Florentine photographer Giacomo Brogi (1822-1881), who had a shop in Rome, on Via del Corso 419.