Trastevere
(The picturesque Roman district "beyond the Tiber")

Long considered an isolated, proletarian suburb of Rome inhabited by immigrants, fisherman and craftsman, Trastevere gained importance as one of the most picturesque reminiscences of what the old quarters of Rome looked like in medieval times.

Trastevere got its name from the Romans who referred to the area as trans Tiberim (meaning "beyond the Tiber"), a rather condescend way to refer to an area that they did not recognize as being part of the wealthy and powerful city of Rome.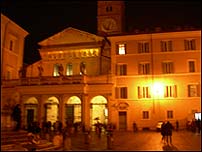 Due to their long isolation, the inhabitants of Trastevere developed a culture of their own: a centre of spiritual, artistic and social life. Over the centuries the small craftsmanshops and trattorie became more refined, and the area evolved into a more ethno-chic, artistic area where with the small artigianato shops and pubs now alternate with fashionable restaurants and local artist galleries. However, to this day, Trastevere remains the area of Rome tied to popular traditions where the inhabitants consider themselves the romani de Roma (the Romans of Rome).

Places we like in Trastevere...

La Via della Seta
(arts and crafts)
Piazza S. Giovanni della Malva 16
Tel/Fax: +39-06-58.80.484

A tiny shop with unique, selected, handcrafted art pieces from Syria and Uzbekistan, such as tablecloths, oriental rugs, hand-painted glasswork, dresses, and much more.

Fior di Luna
(icecream and chocolate)

Something beyond plain chocolate icecream, at Fior di Luna you'll find all possible varieties of chocolate ice cream, such as rhum-chocolate icecream, white chocolate icecream, chili-chocolate icecream, gianduia (nuts and chocolate) icecream, chocolate-orange icecream, etc.

Fior di Luna uses natural ingredients and products stemming from fair trade and social cooperatives.

Via della Lungaretta 96
Tel: +39-06-645.13.14

Carlo Menta
(restaurant, pizzeria)

One of the typical restaurants of Trastevere: fashionable, but relatively low-priced.
Fixed-price lunch menu at 10 Euros and dinner menu at 13 Euros.

Via della Lungaretta, 101
Tel: +39-06-58.03.733

Panattoni
(pizzeria)

Considered one of the best pizzerias in Trastevere where the typical, very fine and crusty Roman pizza is served.

53 Viale di Trastevere
Tel: +39-06-580.09.19

.
.
Rome's
Trends, Travel Tips and Culinary Traditions
District by District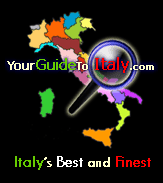 Rome.YourGuidetoItaly.com
and
YourGuidetoItaly.com
2005-2007 © All Rights Reserved.
Photos of the YourGuidetoItaly.com banner (from left to right): (on campus) Sean Locke, (red deckchair) Valentina Jori, (chianti botlle) Donald Gruener, (zucchine) Barbara Bar, (Fiat 500) Luca di Filippo, (coloseum) Alek von Felkerzam.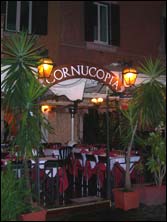 La Cornucopia
(fish restaurant)

One of the better fish restaurants in Trastevere. Elegant setting, candle light and nice terrace for eating outside in the piazza in Summer.

Piazza in Piscinula 18
Tel: +39-06-580.03.80

Piazza Santa Maria in Trastevere at night with the Santa Maria basilica in the background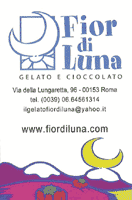 Rome.YourGuideToItaly.com,
your independent guide to Rome and the Roman culture & history.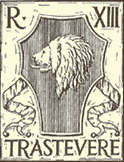 Trastevere was one of the 22 rioni of Rome.
Originally the Renovatio Sacri Senatus of 1144 established 12 rioni, excluding the island of Tiberina and Trastevere. Trastevere only became a rioni in the beginning of the 1300s.
The 22 rioni are:
I. Monti
II. Trevi
III. Colonna
IV. Campomarzio
V. Ponte
VI. Parione
VII. Regola
VIII. Sant'Eustachio
IX. Pigna
X. Campitelli
XI. Sant'Angelo
XII. Ripa
XIII. Trastevere
XIV. Borgo
XV. Esquilino
XVI. Ludovisi
XVII.Sallustiano
XVIII. Castro Pretorio
XIX. Celio
XX. Testaccio
XXI. San Saba
XXII. Prati